https://twitter.com/home https://www.facebook.com/Shabbir.Hussain191
By Shabbir Hussain
LONDON, May 6 (Alliance News): Prime Minister Muhammad Shehbaz Sharif on Saturday joined a galaxy of foreign royals, officials and heads of state and governments, at the coronation of King Charles III – a symbolic ceremony combining religious service and royal pageantry.
The prime minister arrived the Westminster Abbey along with other foreign dignitaries to witness the coronation of 74-year-old King, who was crowned along with Camilla, the Queen Consort. King Charles III, became the 40th reigning monarch crowned there since 1066.
The ceremony marked the pomp and formality featuring centuries old traditions.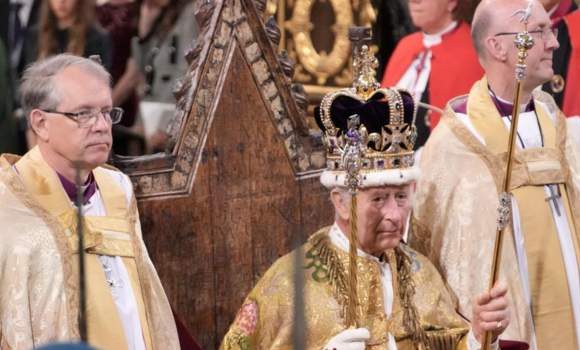 The coronation was the first occasion in 70 years that a British monarch ascended the throne. Over 400 VVIPs including 100 heads of states and governments attended the event.
Dating back to the 11th century, the British monarchy is amongst the oldest political institutions in the Western Europe.
Before the arrival of King, there were processions in the abbey involving faith leaders and representatives, and representatives from some Commonwealth countries, carrying the flags and accompanied by the governors general and the prime minister.
King Charles was presented to "the people" a tradition dating back to Anglo-Saxon times. Standing beside the 700-year-old Coronation Chair, the King was proclaimed the "undoubted King".
The Archbishop of Canterbury Justin Welby performed the ceremony and administered the Coronation Oath to the King.
He received the regalia, including the Sovereign's Orb and scepters before St. Edward's Crown was placed on his head.
Later, he moved from the coronation chair to a throne after performing a number of rituals and crowned with St. Edward's crown.
King Charles III became the seventh monarch to wear St Edward's Crown after Charles II, James II, William III, George V, George VI and Elizabeth II – who last wore it at her own coronation in 1953.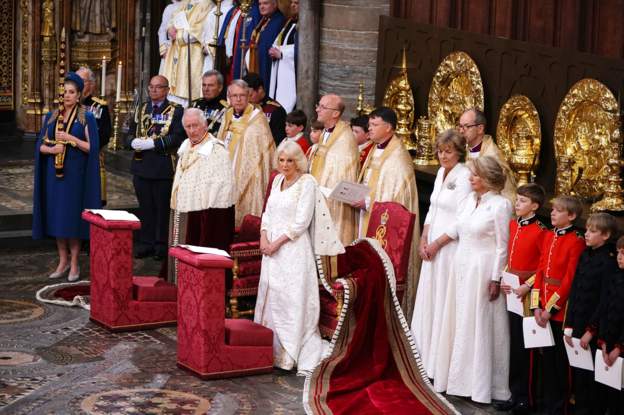 Charles' second wife Camilla, whom he married in 2005, was separately crowned queen during the ceremony.
King Charles III had a special affection for the people of Pakistan, reflected over the years in his work through his charities and patronage of art.
As Prince of Wales, he and his wife Camilla Parker, then Duchess of Cornwall, visited Pakistan from 29 October to 3 November 2006 in the aftermath of the 2005 earthquake.
Since 2017, the Prince's Trust, a charity founded by the King helps young people get into education, jobs and training, through "Enterprise Challenge Pakistan".
The British Asia Trust, a charity founded by King Charles III in 2007 in collaboration with some South Asian business leaders, is aimed at addressing issues such as widespread poverty, inequality and injustice in South Asian countries, including Pakistan.